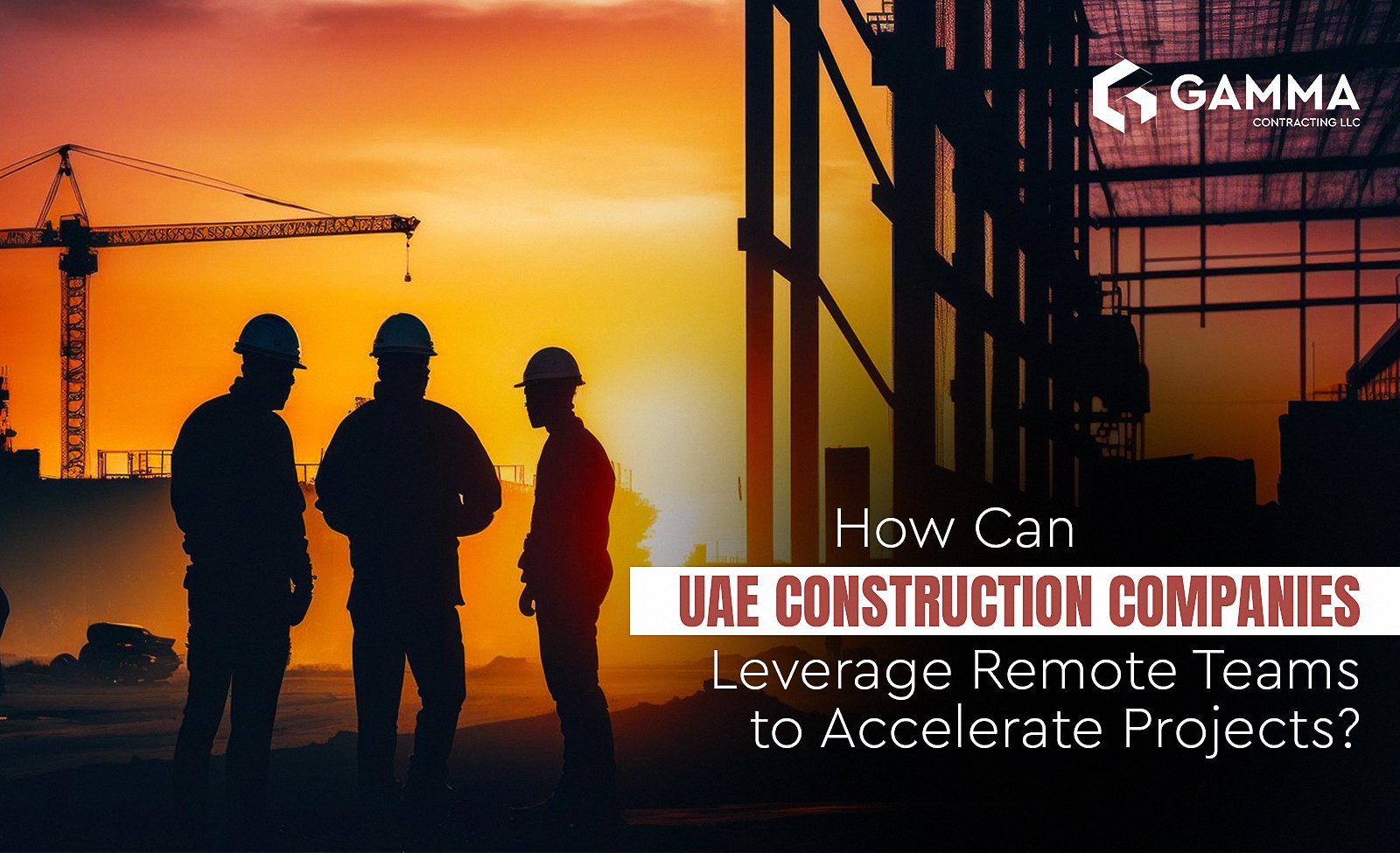 How Can UAE Construction Companies Leverage Remote Teams to Accelerate Projects?
The aftermath of COVID-19 has hit UAE construction Companies hard. The National Association of Home Builders/Wells Fargo Housing Marketing Index recorded its steepest monthly drop in three decades. Despite governments reopening and designating construction as "essential," challenges linger. Labour shortages, adherence to social distancing, and disrupted supply chains complicate project staffing. 
To counter lost time, construction enterprises should harness technology. Connecting with remote teams for off-site tasks could expedite project completion. This article explores how technology-driven solutions, specifically remote teams for off-site tasks, are vital to accelerating project timelines and restoring momentum lost due to the pandemic.  
How Can Remote Teams Aid in Project Acceleration? 
Working remotely in the construction sector is an odd arrangement. But now that a company can access communication, collaboration, and project management tools, remote working is possible for the construction industry. Construction firms can use a few strategies to complete their projects more quickly while working with remote teams. 
Embrace the idea of tele-building 
A business called OpenSpace employed photo-documentation technology to allow builders to wander through the construction site with a camera in hand long before COVID-19 forced construction companies to consider new methods of operation. These images are then uploaded and arranged in a panorama similar to Google Street View.  
This makes it possible for remote workers to see the construction site from anywhere. Similarly to telehealth, OpenSpace has developed a tele-building system that allows project managers, superintendents, and inspectors to watch high-quality photos of the construction site, decreasing the need for in-person visits and saving the organization time and money. 
Utilise BIM 
BIM, short for Building Information Modeling, constitutes a comprehensive digital portrayal of a facility's structural and operational difficulties. It provides project designers, installers, and consultants with a holistic overview, enabling the creation of meticulous construction documentation. This documentation serves as a precise guide for architects, designers, and contractors, ensuring flawless execution of projects.  
Notably, BIM facilitates remote teams in crafting these models, which is particularly advantageous for small and medium-sized construction enterprises, such as UAE construction companies. This advantage provides enhanced access to specialised experts, fostering significant collaborative prospects for these enterprises.     
Utilise modern technology 
Today's world demands quick innovation, and technology is one facilitator that can make this happen. In addition to BIM, next-generation technologies like AR, VR, and drones are essential for construction firms to adopt if they want to stay ahead of the curve and minimise on-site work. The offsite extended construction team may identify issues early on and fix them before they become costly mistakes using technologies like AR and VR. Because these technologies can build scaled virtual models of the site that the remote team can quickly analyze, they also aid in workforce optimization.   
Drones can fly around to provide supplies and monitor conditions. Some construction firms, like the Abu Dhabi construction companies, also consider automating routine jobs at the site using robots. As is the norm today, these high-tech devices can be operated and controlled extremely effectively from offsite locations. 
Observe safety regulations 
Even though many jobs can be accomplished remotely, employees on the project site will always be required. Companies must ensure that all statutory safety requirements are met and that all their personnel are safe. Project managers and directors may have access to software that informs them of the safety procedures followed on the job site and enables them to maintain safety depending on the information received remotely.  
Smart wearables may gather on-site data thanks to the most recent Internet of Things (IoT) technology, providing these distant managers access to the most recent information for better monitoring, tracking, and compliance. 
Conclusion 
These days are peculiar, but it won't stop businesses from starting construction projects again. Even amidst these challenges, companies recognise the importance of adjusting to these new and innovative ways to complete their tasks efficiently.  
With Gamma Constructions as your partner, you can seamlessly integrate remote collaboration solutions, optimising efficiency, and innovation in your construction project. Contact Gamma Constructions today to elevate your projects with cutting-edge strategies.