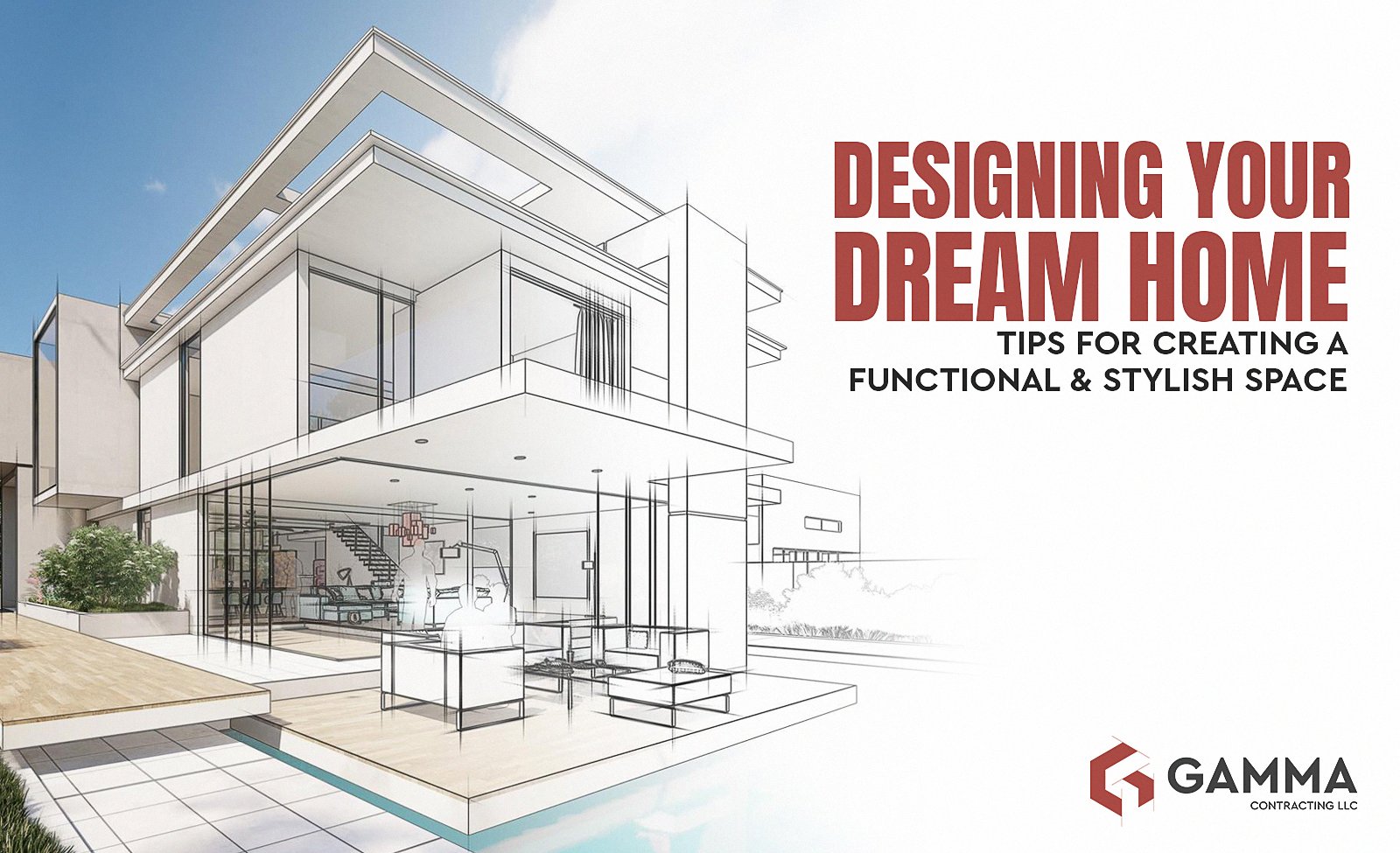 Designing Your Dream Home–Tips for Creating a Functional and Stylish Space
After the pandemic, our homes were more than just a place to live. Home has become our office and a status symbol. Whether you work from a comfortable apartment, a spacious house, or a compact studio, the interior design of bedrooms, living rooms, and every nook in between plays a vital role in crafting your dream home. 
At Gamma Group, we understand the value of modern home architecture and can assist you in designing your dream home. This blog post will discuss the top eight tips for building your spacious and perfect dream house. 
8 Tips for Creating a Functional and Stylish Space 
The Basic Tip 
The primary tip you must memorise is that your house should be clutter-free. No matter the size or style of your living space, decluttering acts as the cornerstone of interior design for living rooms and every other room in your dream home. 
Imagine your living area as a blank canvas awaiting the strokes of modern home architecture. To begin this creative journey, you must clear away the excess—unnecessary items, outdated decor, and anything that doesn't align with your vision.  
Versatile Dining Area 
Consider the dining room as the heart of your home when designing your dream home. Whether you have plenty of space or are working with a cosy nook, customising your dining area is crucial. 
For those with spare space, a well-placed dining table in the living room or kitchen encourages togetherness. In compact spaces, opt for versatile solutions like a small buffet table or collapsible wall table. The design of a modern home should consider your family's distinct eating habits and aesthetics. 
Clean and Dry Bathroom 
A clean and dry bathroom is the basis for your daily rituals. Divide your bathroom into wet and dry zones, regardless of size. A glass cubicle or shower curtains outline the wet zone, while tiles decorate the walls for practicality. Optimal space planning ensures the right-sized sanitaryware and vanity for supplies. Towel hooks, a countertop tray for essentials, and a trash can add convenience. 
Luxurious and Illusionary Bedroom 
A restful night's sleep is non-negotiable for balanced living. Choose the perfect mattress for your comfort. If your bedroom doubles as a workspace, a functional desk, an ergonomic chair, and task lighting are essential to preventing discomfort. Closet space should be a model of efficiency, combining hanging, shelves, and drawers. Try adding mirrored wardrobe shutters, which help create the illusion of space and extra storage in the loft. 
The Main Components 
Lighting is the unsung hero of interior design for living rooms. The components in your ideal home create the atmosphere, add warmth, and improve comfort. When designing your dream home, keep this critical aspect in mind. 
Use a variety of lighting sources to create a space that is both practical and fashionable. A versatile, layered lighting scheme combines table, floor, and overhead fixtures. Whether relaxing in the living room or working hard in your home office, each source can be customised to meet your needs. 
Choosing the correct bulb colour temperature is also critical. Warm, yellow-toned light bulbs create a cosy atmosphere in bedrooms and living rooms, while cooler, white-toned light bulbs enliven workspaces like home offices. 
By working with an interior designer, you can achieve the ideal balance, ensuring your space looks stunning and performs flawlessly.  
Multifunctional Furniture 
In the pursuit of crafting functional and stylish spaces within your dream home, opt for multifunctional furniture. Pieces like coffee tables with hidden storage or sofa beds for guests maximise space efficiency while keeping you organised—a smart choice for modern home architecture that seamlessly blends and functions smoothly. 
Go With Vertical Spacing 
Creative storage solutions are vital to crafting functional and stylish spaces in modern architecture and interior design for bedrooms and living rooms. Utilise vertical space by installing shelves, hanging baskets, or even creating herb gardens on your walls. These ingenious storage tactics optimize every inch of your dream home, proving that the sky's the limit regarding storage. 
BluePrint Of Functional Design 
Creating a functional and stylish space extends beyond aesthetics in the quest to design your dream house. It's about ensuring that the area flows effortlessly. Nothing disrupts the harmony of a room more than furniture hindering movement or essential items scattered far apart. 
Before committing to furniture arrangements, envision your space by sketching it on paper. Plot the placement of your items and map out pathways, allowing for smooth navigation. The goal of interior design for bedrooms and living rooms is to create a dynamic flow that adapts to your daily interactions. 
Conclusion 
In the pursuit of designing your dream house, whether it's interior design for bedrooms, living rooms, or any other space, meticulous planning is paramount. Collaborating with an interior designer or interior design company can elevate your vision to new heights. 
According to Gamma Group, combining modern home architecture with functionality is the key to designing spaces that suit your needs and preferences. By implementing the advice provided in this blog, you can create a functional and fashionable dream home that makes the most of your available space and feeds your sense of home. It is a journey where imagination has no boundaries, and your dream house comes to life. 
Ready to embark on your dream home journey? Contact Gamma Group today to design your dream house!