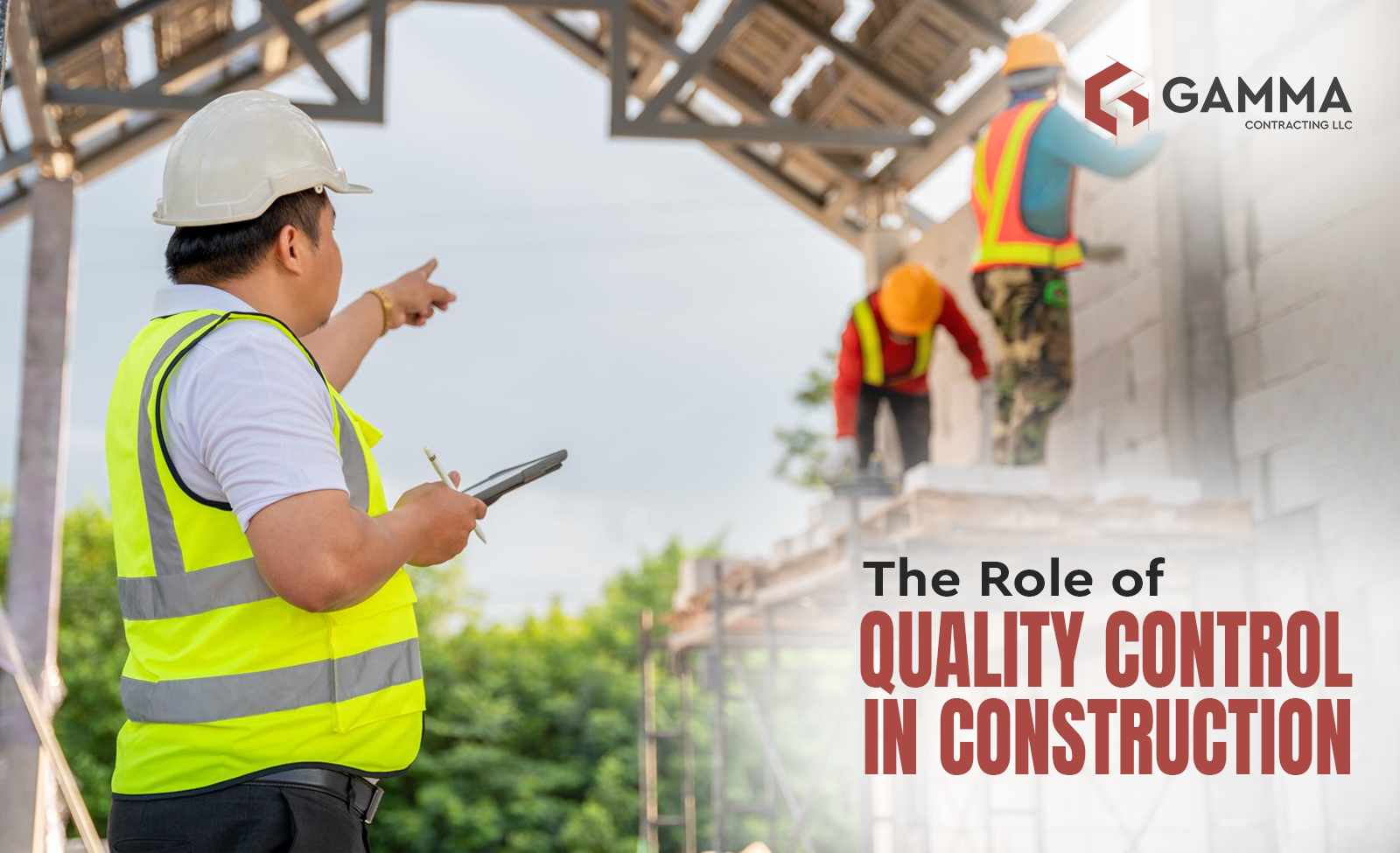 The Role of Quality Control in Construction
Construction projects are usually designed to strike the right balance between timing, quality, and price. Upholding high-quality standards is a top concern, particularly when it applies to construction. A fantastic, finished product can lead to customer loyalty and optimal cost management.  
Each project with adequate quality control measures offers only a few shortcomings and is more likely to be completed successfully. This presents an excellent opportunity for enhanced quality when constructing projects, as not paying appropriate emphasis on construction quality control might have a negative impact on the project. 
What is Quality Control in Construction? 
Quality control in construction is the process of guaranteeing that the project has been constructed in accordance with the appropriate requirements and parameters. This means assuring that the resources used are of the proper quality, that the construction work is of the requisite standard, and that the result adheres to the customer's wants. There are essentially two dimensions to quality: quality assurance and quality control. 
Construction quality assurance defines the minimum standards for a quality project and how the execution will get started. This gives you an idea of how seriously your contractor takes quality. Always ask questions if something isn't as detailed as you wanted. Quality control is the following process, which determines how the quality plan is carried out. It refers to the strategies and tactics used to accomplish results with excellent quality. 
Construction quality control is a constant procedure that calls for regular monitoring and evaluation of the tools, supplies, and labor. The team is in charge of overseeing the construction operation and making sure that the construction is completed in accordance with the specifications and blueprints. They also perform routine inspections and monitoring of everything to ensure the supplies, tools, and craftsmanship adhere to the necessary standards.  A quality control strategy must be ongoing to detect challenge spots and effectively conduct the appropriate corrective actions.  
Who Leads Quality Control at a Construction Site? 
The project or site manager is the primary individual in charge of quality control at the construction site. Their role is to give instructions regarding the desired quality and outcomes. Every supervisor reporting to this manager is responsible for ensuring the quality of all tasks carried out and results obtained in their domain of responsibilities. This includes not just the quality of the job that was done but also the quality of the supplies involved. 
What are the Quality Control Standards?
Depending on the requirements and complexity of an organization's projects, there are various approaches for quality control management in the construction industry, each with its own benefits and drawbacks. The International Organization for Standardization created a set of quality guidelines called ISO 9001. The foundation of these seven standards is the participation of people, customer-focused, leadership, process strategy, enhancement, evidence-based decision-making, and managing relationships.  
Why is Quality Control Important?
Quality control plays an essential role since it forms the cornerstone of your project's success. We think that a robust and high-quality strategy encourages high-quality building. The quality plan of a contract determines every aspect that goes into constructing a project. That implies that quality constantly stands at the very center of everyone's mind throughout the entire project.  
Poor quality can result in a range of issues, including errors, buildings that won't stand the test of time, misunderstandings between the individuals involved, and several construction adjustments.  
Additionally, quality control and cost management go hand in hand. Early planning and establishing high standards for quality help us lower the possibility of making pricey mistakes once construction has started.  
Decisions taken throughout the design and planning stages can significantly impact safety throughout the construction project. This is one of the advantages associated with establishing quality control. For instance, keeping construction zones clearly separated from traffic during road work may significantly decrease the risk of accidents. 
Quality control ensures that the project is constructed in compliance with the required guidelines and requirements, which can improve the contractor's and the business's credibility. This might bring about more significant business in future years.  
Quality control also ensures that the construction work is carried out in accordance with regulatory and industry regulations. This may avoid legal challenges and conflicts that usually come from non-compliance. 
How to Have Efficient Quality Control in Construction? 
Here are some of the quality control processes which ensure the ideal construction of any building:
1. Whenever you begin your project, ensure that all of your teams have a balance of the most qualified people. Ensure your superiors or foremen know the quality requirements and designate suitable people for the appropriate tasks. Allow them to supervise their crews whenever needed to meet those requirements. 
2. Invest in technology that provides five-star quality service so you do not get left waiting when you have queries or require assistance. One can start with an easy-to-use program with a time-tracking system that streamlines payments and planning. 3.
3. Ensure that all the components used in the buildings and frameworks meet the quality standards and required specifications. Make sure that you order supplies that meet the required criteria. 
4. Implement accurate security and compliance procedures to keep your staff members safe while preventing insufficient or unsafe work on your construction job. 
5. Discuss the project's scope with every interested party and ensure everybody is on board. Understanding the requirements and guidelines set forth by the client is essential. The construction paperwork, project details, and building plans should clearly define these requirements.  
Conclusion
A construction project is a thorough operation that requires a detailed construction quality control plan. Every step requires attention to construct an ideal building. To comply with the quality requirements, one should connect with experienced construction contractors. With a vision of turning every dream into reality, Gamma Contracting LLC has been at the forefront of the construction industry.