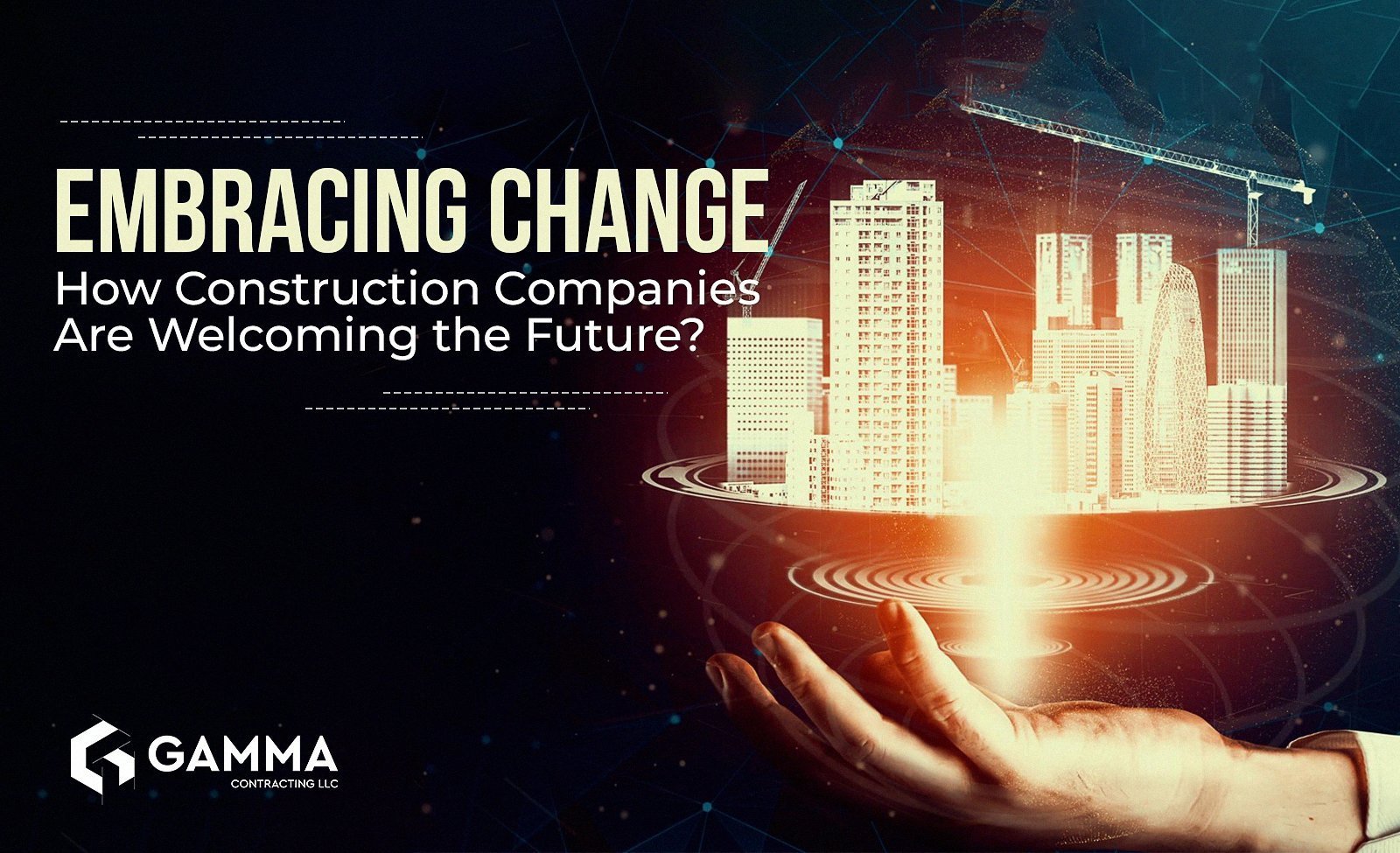 Embracing Change: How Construction Companies Are Welcoming the Future
Since 2020 and the rise of the global pandemic, the world has undergone drastic changes affecting every industry and firm. Everything has moved to the so-called new normal, from the way of living to the working method. In 2023, society emerged from its hard times and evolved with a strategic intent and resilience to new challenges. 
With society, the construction industry has also evolved and become resilient to the hard hits of the modern world and volatile times. The one thing that has improved in terms of construction due to this pandemic is residential construction. With companies adopting work from home, many people were left stranded, and the mass hysteria moved society to seek residential homes away from the masses. But this drastically affected the commercial and infrastructure investment as construction sites shut down due to reduced working staff disruptions in supply chains and various operational restrictions.
All this dramatically pushed the construction industry towards embracing changes and evolving towards a resilient and adaptive industry; the construction industry's future is not arriving; it's already here, Today!
The Future Is Here
According to McKinsey, the construction industry is the slowest-growing industry in the world. 
Still, during the pandemic, we saw a rapid increase in its evolutionary potential and readiness to embrace evolutionary ideas.The pandemic has forced construction companies to rethink and adopt strategically advanced technologies that improve the efficiency and effectiveness of building constructions. Here are a few things the construction industry welcomed with an open hand after 2022.
Virtual Construction Is The New It!
The construction industry welcomed the addition of technology with an open heart and arms after the struggles of the pandemic. With the adoption of various advanced technologies, virtual design and visualisation saw a rapid rise in acceptance. Many of these technologies, from Building Information Modelling (BIM) to Construction Management Software, rely heavily on virtual design and construction to visualise the construction structures before building them. These virtual designs can be accessed via desktops, mobile devices, and augmented and virtual reality hardware.
Studies show that nearly 30% of construction industry cost comes from the rework of faulty or incorrect constructions.
With the help of virtual design, construction companies have cut unnecessary costs by allowing construction companies first to build structures in a virtual environment. With the help of various software like AutoCAD, BIM360, and REVIT, the construction industry is making great strides in the construction industry.
Latest studies show that the virtual design and modelling market is on a steady rise and is expecting a growth of 50% in the upcoming 10 years.
Reinventing Infrastructures 
Prefabrication and modular construction concepts have been popular even before the pandemic. The concepts focus on speed of delivery, energy efficiency, and cost-effectiveness.
Modular constructions typically involve constructing a least 50-60% of a building or other structure before bringing it to the construction site. Prefabrication is essentially modular construction where certain structural components are assembled or manufactured off-site.
The modular construction market worldwide was worth about $101.3 billion in 2022, and it is expected to grow to $168.7 by 2032.
While it may seem small relatively compared to the whole construction market, the modular construction industry has experienced a rapid rise in the past years. Most general contractors and architects recommend pre-fabrication and modular construction as it helps keep costs low, shorten the construction time and reduce waste.And, of course, the effective implementation of prefabrication and modular construction places greater demand on construction companies' planning, documentation, and data accuracy practices. It's easier now that the fast-developing technology-based systems provide accurate, current and comprehensive data about construction sites.
Sustainable GREEN BUILDINGS 
This period of struggle right after the pandemic allowed government and regulatory bodies worldwide to focus more on environmental policies for every industry. Given the enormous environmental impact, the construction industry is turning to a newer and green leaf with sustainable practices, not just for moral imperatives but also for financial advantages.
Sustainable practices are also financially sound as they help reduce waste, attract new customers and improve resource utilisation.
As more and more construction and design firms are implementing Green Building methods involving sustainable construction and design processes, over half of the builders worldwide expect the majority of their buildings to be green by the end of the year. Construction companies consider this an opportunity to leverage technology to plan construction activities better and make them more resource efficient.
The Ever Rising Labour Shortage
The adoption of advanced technologies and the global pandemic has put a rut in the ever-present global labour shortage in the construction industry. If we are to point out one downside of rising technologies, the shortage of sufficiently trained labourers takes the top spot. With more technology integration, intelligent systems, and smart automation, job roles have started to morph. Construction companies now require people who can understand the technology and deliver outcomes with new and advanced tools.
In a recent survey by AGC, almost 90% of construction firms report having difficulty in filling positions, and out of it, 61% said that they are experiencing project delays due to the labour shortage.
Construction and various other industries are trying various strategies to recruit and retain workers by improving salaries, internships, and diverse hiring. At the same time, the plus point is that the construction industry trade courses are seeing higher enrollment rates.
Ensuring Safety With Technology
Construction is not really the safest job in the world, with an outsized share in workplace accidents and fatalities.
From 2011 to 2019, injuries from falls increased by 41%, and non-fatal injuries rose by 8%. 
While the pandemic brought a slight decrease in the percentage of fatalities, sadly, more than 365 people died in the construction industry from falls, slips or trips in 2020 itself. These statistics were a wake-up call to the construction industry for improved safety equipment technologies.Newer and more advanced technologies in basic safety equipment, like helmets and monitoring systems, have increased workers' safety and health. Now more and more construction companies are adopting various apps, wearable devices, and other approaches to make a safe construction site for the workers.
Dynamic Project management
As construction became more complex, project management became more comprehensive and agile, with smart projects delivered by multi-layered teams of specialists interacting at specific points. It became important for construction companies to try out various approaches based on various benefits and specific strategies.
 A recent survey by ABB shows that more than half of the construction companies are currently using robots, and 81% are expected to introduce similar technologies within the next 10 years.
Platforms like BIM and robotics have become more crucial as they provide a linear understanding of each project's current stage and future scope at times.
Conclusion
The construction industry has been evolving for some time, but it has shifted to a faster lane since the pandemic. While many new technologies and infrastructures debut in the form of job trends, managerial strategies, and construction methods, the construction industry keeps evolving. Top construction companies in Dubai, like Gamma contracting, will continue to invest in newer technologies to stay relevant in the new normal. With a clear-cut technology strategy and roadmap to tackle the next step, Gamma contracting firmly grapes its future in tight hands as one of the best construction companies Dubai.